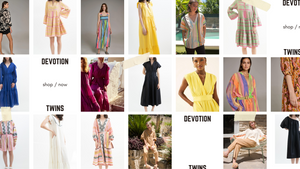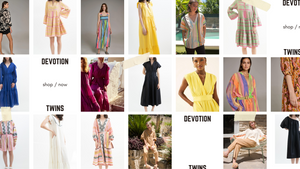 Your Perfect Summer Addition
Welcome to Harpers Emporium, where Elegance Meets Exceptional Craftsmanship
We take pride in offering a carefully curated selection of the world's most prestigious luxury clothing and accessories brands. Our handpicked assortment features products that define the epitome of sophistication and refinement.
Lots of Love from Our Customers
★★★★★

Have you ever found that incredible store, if your looking for the perfect outfit or an amazing gift to give a special friend, Harpers has the most amazing perfumes, cute little pieces of jewellery and  bags, don't even get me started on the fabulous clothes, always something awesome in store and her cashmere, just to die for…. Kirstie has an amazing eye for quality and beautiful fashion. Do yourself a favour and check out her store.
★★★★★

I have been shopping both in-store and online with Kirst at Harpers Emporium for close to 10 years. Her store is a chamber of treasures where you'll find everything you will love. From clothes to shoes to bespoke bags and jewellery (unique and beautiful), perfumes and gifts.  Kirst takes the time to get to know her customers and their style and can always find the perfect outfit for anyone.  Harpers Emporium truly is a rare gem in East Fremantle.
★★★★★

The only shop for me worth leaving my home for is Harpers Emporium, it's like no other, the labels are exquisite and I feel I'm back in Europe shopping but with an East Fremantle vibe. It has a relax and friendly feel and I know I'm buying products of the best quality, Kirstie has an eye for style and knows what outfit looks best on my body shape. For me being in my early 50's I'm looking for quality not quantity and Harpers definitely has this. The jewellery and perfumery is Divine. To be honest everything in that store is picked with the most creative and elegant taste, if you are not shopping in Europe or anywhere overseas you need go to Harpers , I'm liked obsessed with the shop….  Don't bother going anywhere else cause you will be disappointed.
Keep up the good work Harpers Emporium x
★★★★★

I have supported Harpers Emporium for many years and it's boutique shopping at its finest! Every year I spoil myself with many beautiful pieces of Cashmere that Kirst has in-store. Her eye for quality and for sourcing such quality pieces is a true credit to her dedication to providing her customers with quality and beautifully crafted clothing. Thanks Kirst, and thank you for a beautiful shopping experience at the Emporium.
★★★★★

I love going to Harper's Emporium as you can in true Emporium style find all that you need. A dress for a ball – tick, clothes for a Europe trip to the snow – tick, clothes to relax in that makes you fell wonderful – tick, jewellery that is affordable – tick, jewellery that is expensive and heirloom worthy – tick, Italian leather bags – tick, perfumes that you don't find on every corner – tick. The selection and help I get from Kirst and her staff is truly unique.
★★★★★

I have been a devoted online shopper at Harpers Emporium for the past three years, and I must say, it consistently transports me back to the charm of France right here in Australia. Harpers Emporium has become my go to destination or French labels, offering a curated selection that beautifully captures the essence of French fashion.
Our Brand Focus: Exquisite Craftsmanship and Attention to Detail
Embrace a lifestyle where luxury is not just a statement but a feeling. We invite you to explore and embrace the finest collection of products - a testament to a fusion of timeless style, impeccable craftsmanship, and the pursuit of excellence.
Jewellery Stacking
Curate your style with perfect jewelry layers, playing with size, colours and contrasting metals.
Shop the Collection
Cashmere's Lasting Impact
Buy cozy, stylish, and durable cashmere sweaters on Harpers Emporium.
Shop the Collection
Free Shipping
Spend over $500 and enjoy free shipping
Returns & Exchanges
30-day return and refund policy
Gift Cards
Buy and gift someone store credit today